Twin Sails Bridge: More repairs needed during closure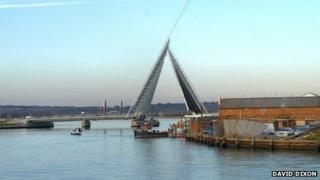 A two-year-old bridge in Poole dogged by defects that forced its closure 38 times in six months is to undergo more remedial work.
Dorset commuters using the Twin Sails Bridge will face disruption when it shuts for a week from 31 March.
It is closing anyway for routine maintenance but a crack that has appeared requires fixing as well.
The council's engineering maintenance manager John Rice said the crack was "very minor and not structural".
Sections fell off
Numbers of closures of the £37m bridge, which opened in April 2012, were revealed in a BBC FOI request.
And, a year after it opened Poole Borough Council said the bridge still had 100 defects.
Problems have included sections of the road falling off as the bridge was raised, reduced hydraulic pressure and loss of power.
The sound of the bridge's lifting sirens also had to be lowered following complaints.
And in December 2013 a woman had to be rescued after her car overturned during a scheduled lift.
But Mr Rice said this latest repair work was only cosmetic as the crack merely looks "untidy".
"I accept that in the early months we had more [defects] than we anticipated, but we're on top of that now," he said.
He added the bridge would close for routine maintenance for a week every spring.
The bridge will be shut to vehicles, cyclists and pedestrians from 07:00 GMT on 31 March until 07:00 on 7 April.
A diversion will be put in place via the old Poole Bridge and the scheduled lifts will take place as normal.