Swanage Railway's rare 1940s Bulleid carriages return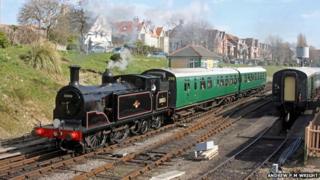 Two rare 1940s passenger carriages have travelled on a Dorset heritage railway line for the first time in almost 50 years.
The restored Bulleid carriages ran from Swanage to Norden Park and Ride on the Swanage Railway line.
The carriages traditionally travelled in pairs, which last happened on the Swanage line in 1966.
It concludes a £200,000, eight-year volunteer-run project to bring both carriages back into service.
'Important heritage'
The journey earlier marked the return to the line for one of the carriages following three years of restoration work, which included replacing much of its steel underframes and wooden floor.
The other coach was brought back into service in September 2012 after six years of restoration work.
Swanage Railway Trust chairman Gavin Johns described the two carriages, which were built in 1947 in Eastleigh, as "an important part of our railway heritage".
More than 800 Bulleid coaches, designed by Oliver Bulleid, were built for the Southern Railway and British Railways in the 1940s and 1950s.
They were used on express trains from London to Southampton, Bournemouth and Weymouth from the 1940s until 1967.
Only 16 survive in preservation and Swanage Railway owns four, with two awaiting restoration.
Swanage Railway was closed by British Rail in 1972 but was reopened as a heritage railway.
Next year, a regular train service on the 10-mile stretch between Swanage, Corfe Castle and Wareham is set to be reinstated for the first time in more than 40 years.