Hengistbury Head land train owner told to leave site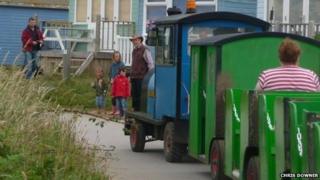 A privately-owned land train that has been running at a Dorset nature reserve for 45 years is to be replaced with a council-owned one.
Joyce Faris has been running the train at Hengistbury Head since the death of her husband, who launched it in 1969.
Bournemouth Borough Council, which owns the site, said Mrs Faris's contract had expired and would not be renewed.
It said it wanted to provide a wheelchair-accessible service, linked with its seafront trains to Alum Chine.
A petition against the plans has gained more than 15,000 signatures.
Mrs Faris said: "I had the council come to see me to renew my contract, which they do every year, but they said 'we want you to leave by 5 November with all your equipment'.
"It was rather a shock. There was no reason, just that they want to use their own train."
'People are horrified'
Tourism councillor Lawrence Williams said: "With the opening of the new Hengistbury Head visitor centre, we see this is an ideal opportunity for us to provide a joint service.
"The long term aim being to link the whole of the coast up from Hengistbury Head to Alum Chine on one single land train service."
Mrs Faris's train runs from Hengistbury Head car park to Mudeford Spit.
She said: "It was started by my husband because they wanted alternative transport.
"People are horrified. They say they've been using it since they were children."
Mr Williams said: "The existing land train service at Hengistbury Head has served the area well for a number of years and I would like to thank Mrs Faris for her dedicated work during this time."
The council denied rumours it was introducing a Disney-themed train.