Dorset storm-damaged roads get £6m government funding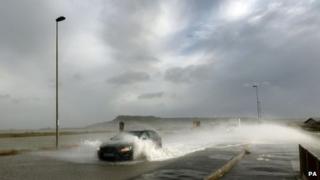 Almost £6m has been given by the government to help repair storm-damaged roads across Dorset.
The £5.8m is an emergency payment which must be spent by the summer.
The council said it would "look at carrying out repairs in the most efficient way... causing the least disruption to residents".
Dorset County Council said it would continue to call for further funding as it estimated the final repair bill from weather damage to top £12.4m.
It has also received £184,813 from the severe weather recovery scheme.
It comes as the Conservative MP for West Dorset, Oliver Letwin is appointed flood recovery minister for Devon and Dorset.
His role, announced on Friday, will see him investigate the impact of the recent floods and look at ideas to reduce any impact from further flooding.