Omar Benguit appeal fails as murder conviction upheld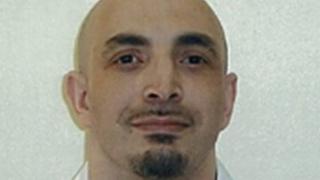 A man jailed for murdering a Korean student has had his conviction upheld, despite claiming a convicted serial killer could have been the culprit.
Omar Benguit, from Bournemouth, Dorset, was jailed in 2005 for the murder of Jong-Ok Shin three years earlier.
He had claimed double-murderer Danilo Restivo could be the real culprit but Court of Appeal judges disagreed.
Another claim was that a prosecution witness who later appeared on a TV chat show contradicted her trial evidence.
Restivo, who murdered Bournemouth mother-of-two Heather Barnett in 2002 and 16-year-old Elisa Claps in his native Italy in 1993, became known as the "hair in hand" killer after he admitted having a hair-cutting fetish.
One of the key conclusions of the judges was that the difference between those two murders and Miss Shin's killing "do not persuade us that Restivo should be regarded as arguably a candidate for the latter".
The judgement also stated: "When observed watching women he was at an isolated location in stark contrast to the residential street upon which Miss Shin was murdered."
It also said the credibility of the witness had already been tested by a jury and she had never changed her evidence.
"We are in no doubt that the jury reached a verdict consistent with the evidence and we have heard nothing in either of these grounds to make us doubt the safety of the conviction," it added.
Jong Ok-Shin, known as "Oki", was found slumped on a pavement after having been stabbed three times in the back as she walked home from a night out with friends in Bournemouth in July 2002.
She died at Poole General Hospital from her injuries.
The 26-year-old had arrived in the UK in November 2001 and was studying languages in the town.
Benguit, who is in his early 40s, has consistently argued his innocence and his family have fought to prove he is the victim of a miscarriage of justice.
His sister Amie Benguit, who has spearheaded his nine-year fight for freedom, said his family were "completely devastated" but added "we will not stop here".
He was found guilty at his third trial after two previous juries failed to reach a verdict.