Suspected trafficking victims found in Bournemouth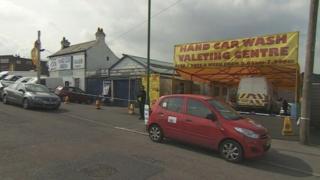 Six men - thought to be victims of forced labour and human trafficking - have been removed from a garage on a business unit in Bournemouth.
The men, aged between 20 and 30, were taken to a place of safety following a raid in Ringwood Road, police said.
A 23-year-old man was also arrested and later released on bail.
The raid, involving the National Crime Agency, Dorset Police, Bournemouth Borough Council and the Red Cross, began at about 07:45 GMT.
Officers were seen removing items from AA Clock garage and car wash throughout the morning.
Det Supt Kevin Connolly, of Dorset Police, said: "Today's operation is the result of a detailed and protracted inquiry and our primary aim is to protect and safeguard vulnerable victims."