West Dorset beach clean removes 13kg of dog mess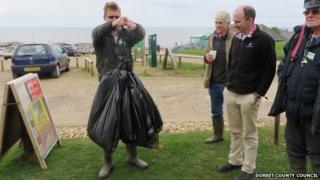 Volunteers have removed 13kg (29lb) of dog mess from two Dorset beaches.
The clear-up in the Cogden and Hive Beach area on Friday was aimed at highlighting problems caused by owners who do not clear up after their pets.
Working with the Litter Free Coast and Sea campaign and the National Trust, the volunteers also cleared surrounding paths and fields.
Dog faeces pollutes bathing water and spreads a parasite that is dangerous to pregnant cattle.
Although the neighbouring fields were empty, cattle are due to moved there for grazing in the coming weeks.
The campaign, which aims to reduce the impact of marine and beach litter and improve bathing water quality, carried out a survey which found nearly 70 fouling incidents a week in one small area below Cogden Beach car park.
'Cattle abortion'
Helen Freeman, a dog owner who was involved in the project, said: "We were all shocked when we recorded, sprayed and picked up the dog mess and discovered the extent of the issue."
Bridport vet Barry O'Mahony said: "Neosporosis is the most frequently diagnosed cause of abortion in cattle in the UK and cattle become infected through dog poo.
"If your dog does foul on grazing land, even if no cattle are grazing on it at the time, it is important to remove and dispose of it carefully."
National Trust ranger Rowan Thompson said: "It is not fair that a minority of visitors ruin these beautiful areas for everyone else, not to mention the harm done to wildlife and livestock."
Litter Free Coast and Sea is part of the Dorset Beach Care Project, funded by a number of organisations, including the National Trust and Crown Estate.