Boscombe surf reef reopens after repairs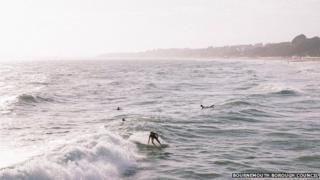 Europe's first artificial surf reef has reopened three years after it was closed over safety fears.
The £3.2m structure in Boscombe, Dorset, had to be shut in 2011 after sandbags were damaged by a boat's propeller.
It forms part of Bournemouth's new Coastal Activity Park which includes a multi-sports arena.
Mark Smith, from Bournemouth Borough Council, said he was "delighted" the reef was operational again.
Made of 55 giant sand-filled bags 740ft (225m) out at sea, the reef opened in November 2009 after lengthy delays.
The firm that built the structure, New Zealand-based ASR Ltd, went into liquidation, but the council received £306,531 from its insurers after a two-year wait to fix the damage.
Safety checks
The artificial reef will be used primarily for snorkelling activities for families until the surfing season starts, the council said.
It will host the Surf Festival in September.
Mr Smith, who is director of tourism at the council, added: "We've had the right checks after the damage was done.
"We've had [civil engineers] HR Wallingford check it out for the currents and now we're absolutely sure it's safe to use again.
"Most of the summer is calm and not suitable for surfing... we'll have the surfers able to use it when the conditions are right."
The 1 mile (1.5km) activity park between Alum Chine and Southbourne features a sporting events site and a dinghy park.
The total cost of the park, including repairs to the reef and safety checks, was £700,000.
Funding was assisted by a £254,000 grant from the government's Coastal Communities Fund.