Portland stone firm fined for worker's injury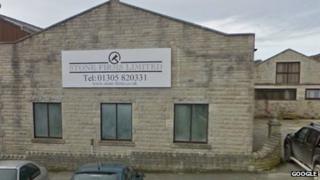 A stone quarrying company in Portland in Dorset has been fined for safety breaches after a worker fell more than 4.5m (15ft) on to a concrete floor.
The 50-year-old man was replacing roof lights on a fragile roof and suffered a broken hip and head injuries.
Portland Stone Firms Ltd pleaded guilty to two breaches of health and safety law and was fined £20,000 and ordered to pay £19,991 in costs.
The accident happened at its main depot in Easton Street on 16 August 2012.
Weymouth Magistrates' Court heard that the employee, from Weymouth, was using a ladder and roof supports to gain access to the work site because the cherry picker he usually used had been removed from the site by the company.
While replacing a light, he stepped back off the roof supports and fell through the roof and on to the concrete floor inside the building. He suffered a large gash to the back of his head and broke part of his hip bone.
The man had to undergo a number of hip operations and later lost his job.
An investigation by the Health and Safety Executive (HSE) found that the planning and supervision of the work was inadequate, suitable equipment was not provided and Portland Stone Firms failed to ensure a safe system of work.
The company has yet to respond to a request for a comment.