Sand sculptor re-creates Last Supper in Weymouth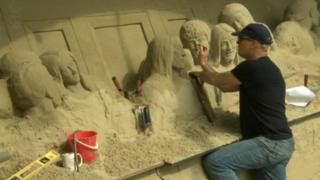 A sand sculptor is re-creating the Last Supper on a beach in Dorset.
Artist Mark Anderson is sculpting the Easter scene in Weymouth, which depicts Jesus sharing a final meal with his apostles before his crucifixion.
His grandfather, Fred Darrington, who was also a sand sculptor at the resort, took on the same project in the 1970s.
Mr Anderson, who has been a sculptor for 28 years, said it was one of the most difficult challenges he had ever taken on.