Dorset magistrate court failures blamed on CPS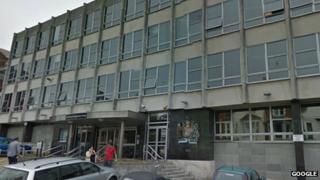 Poor communication between police and prosecutors has been highlighted by a report into unsuccessful outcomes in Dorset's magistrates courts.
The HM Crown Prosecution Service Inspectorate (HMCPSI) report pointed to lawyers' "over-cautious culture".
It also highlighted "poor charging decisions" by the police especially around motoring matters.
The Crown Prosecution Service (CPS) said "restructuring" would lead to an improvement.
The report found the number of cases where there was neither a conviction or a guilty plea after an individual had been charged, was significantly above the national average.
'Inadequate scrutiny'
It said the CPS was discontinuing cases but not telling police what was needed to secure a conviction and some CPS decisions to discontinue were "not as robust as they should have been".
It also highlighted some lawyers in Dorset were discontinuing cases before they came to court, rather than risk an acquittal after trial.
HM Chief Inspector Michael Fuller said: "This report has highlighted a number of significant issues in the CPS unit in Dorset, not least an over-cautious culture and an inadequate level of scrutiny.
"My inspectors remain concerned that the weak decision making of some lawyers will become diluted amongst the wider area caseload."
Kate Brown, chief crown prosecutor for the CPS in Wessex, blamed the "transition" within the region since 2011, which included the closure of four offices, for affecting communication with the police.
"I am confident that now that we have completed the refocusing and restructure of CPS Wessex that we will become more resilient and will be able to deliver a more efficient and effective service to the public we serve," she added.
Deputy Chief Constable James Vaughan of Dorset Police said some of the issues raised in the report were a result of recent changes which allowed the force to make charging decisions for approved types of lower level crimes including traffic offences.
"As a new area for the police we are open to learning. We will welcome more feedback from other criminal justice partners to understand why any cases charged by police are discontinued," he said.