Chesil Beach little tern conservation scheme extended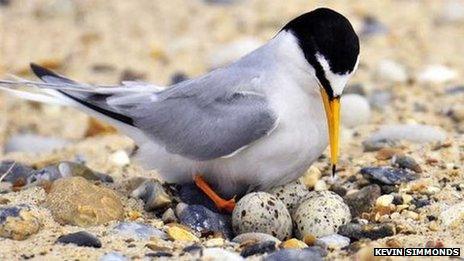 A scheme to protect rare seabirds on the Dorset coast is to continue after the number of breeding pairs increased.
Numbers of little terns nesting on Chesil Beach have doubled to 25 pairs since the RSPB project began in 2009.
Project officer at the RSPB, Morgan Vaughan, said measures such as electric fencing had "made all the difference" to the ground-nesting birds.
The organisation hopes to restore the population to its peak in the 1990s when there were of 100 breeding pairs.
Little terns migrate from the West African coast to breed, but the RSPB said they were threatened by habitat loss, rising sea levels and predation.
Round-the-clock monitoring of the Chesil Beach nesting site to minimise disturbance from predators and people led to 30 fledglings successfully leaving the beach in 2013.
Chesil Beach landowners, the Crown Estate and The Portland Court Leet have extended their funding for the project for another year.
Gary Thompson, coastal manager at the Crown Estate, said: "The little tern breeding project has grown from strength to strength over the term of the programme contributing to the native seabird population on the Dorset coast."
Related Internet Links
The BBC is not responsible for the content of external sites.