Andrew 'Bart' Simpson: Inquest rules death was accidental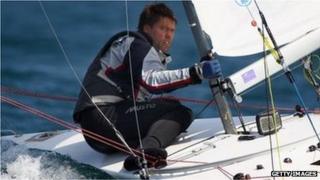 The death of Olympic sailing gold medallist Andrew Simpson was accidental, a coroner has ruled.
Known as Bart, the 36-year-old, from Sherborne in Dorset, was killed in San Francisco Bay on 9 May 2013.
The inquest in Bournemouth heard the father-of-two died while training for the America's Cup with Artemis Racing.
He was one of 11 people on board the AC72 catamaran when he became trapped underneath it, after it capsized and broke into pieces.
During the 15-minute inquest, Richard Middleton, assistant coroner for Dorset, said Simpson had been trapped underneath the vessel for approximately 10 minutes before being pulled from the water.
He had been performing a "bear away" manoeuvre - turning downwind - when the catamaran's hull dug into the water, causing it to capsize.
"I have heard how he sustained injuries, predominantly to his head and neck.
"I am sure that it is probable Mr Simpson's cause of death arose as a consequence of a deliberate human act which has unintentionally and unexpectedly taken a turn that has led to his death.
"Mr Simpson died as a result of an accident," Mr Middleton said.
The assistant coroner said the medical cause of Simpson's death should be recorded as "blunt trauma with drowning".
He added that Simpson's death was a "tremendous loss to the sailing community".
Simpson, Iain Percy and Sir Ben Ainslie had been part of Sir Keith Mills' Team Origin campaign to try to build a British challenger to compete for the America's Cup.
Sir Keith later pulled Team Origin out of the event.
Simpson won gold alongside Percy at the 2008 Olympics and silver at London 2012 in the Star discipline.
Following his death, a foundation was established by Percy, Sir Ben and Simpson's widow, Leah.