Weymouth remembers D-Day invasion role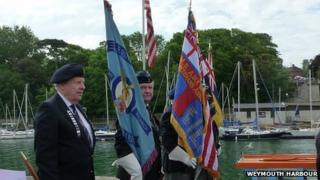 The build-up to D-Day 70 years ago has been remembered at a ceremony on Weymouth seafront.
Thousands of troops left from the resort in June 1944 to take part in the Allied invasion of Normandy.
A wreath-laying ceremony was held on Thursday at Weymouth Harbour, coinciding with a visit of the Millin bagpipes on a D-Day relay.
Chris Copson, of The Keep military museum said Weymouth was "extremely important as a major harbour facility".
"The veterans are walking, living history - that's what is important about this anniversary," he said.
The Millin Montgomery D-Day Voyage is a seaborne relay event organised by the British Legion from the Highlands of Scotland to Sword Beach in Normandy.
The bagpipes are a replica of the ones played by Piper Bill Millin as troops landed on Sword Beach on 6 June 1944. Despite heavy machine gun fire, the 21-year-old soldier survived.
They relay team is visiting places which played an important role in the invasion and is due to leave Weymouth bound for Southampton on Friday.