Hundreds flock to see rare short-toed eagle near Wareham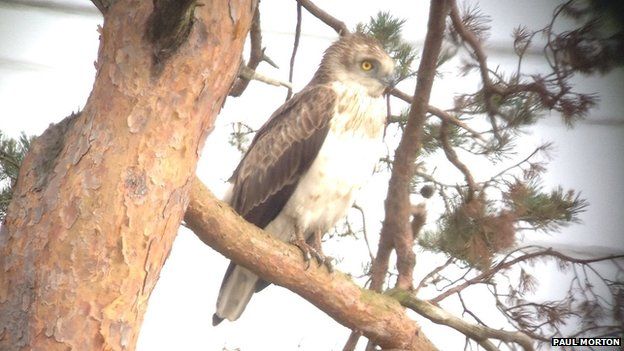 Hundreds of bird watchers have flocked to a nature reserve in Dorset after a rare short-toed eagle arrived there on Saturday.
About 700 people travelled to Morden Bog, near Wareham, over the weekend after the raptor was spotted by guide Paul Morton.
It is thought to be first sighting of the species on the British mainland.
The birds are common in central and southern Europe and have a wingspan of up to 6ft (190cm).
Short-toed eagles (circaetus gallicus) migrate from Africa in the spring and can live up to 30 years.
The only previous official UK sightings have been on the Isles of Scilly in 1999 and in Jersey in 2011.
Mr Morton, founder of Birds Of Poole Harbour education charity, discovered the bird sitting in a tree while he was taking a group of people for a guided tour of the reserve on Saturday morning.
He said it then stayed there until lunchtime when it flew off but then came back to the same tree at about 16:00 BST. It was still there on Sunday morning.
"I couldn't believe it," Mr Morton said.
"It's just extremely rare. You do not ever, ever expect to find one sat in a tree.
"I think it may have been migrating from southern Europe to central Europe and have been blown off course because of the easterly wind direction lately.
"It's what we call a second-calendar year bird. It would have hatched last year and has never migrated before and it's just got a bit lost.
"But where it's landed is just ideal for it. It feeds off lizards and snakes and this area is just stuffed full of those species.
"It's flown off now but I think it's probably gone off to feed somewhere in the forest and it may be back later."
Mr Morton will now report his sighting to the British Birds Rarities Committee (BBRC), which will confirm the recording.
He said: "I don't think there will be any doubt over it. So many people saw it."
Related Internet Links
The BBC is not responsible for the content of external sites.