Fatal Poole hit-and-run: Police offer £10k to trace VW Golf driver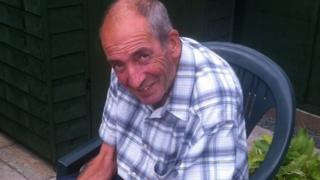 A £10,000 reward has been offered for information about a hit-and-run crash in Poole, in which a frail grandfather died.
Christopher Colegate, 69, from Poole was found in the road at the junction of Heath Avenue and Darby's Lane at about 19:30 GMT on Friday 13 December.
A VW Golf driver who left the scene of the crash who was caught on CCTV is being sought by police.
Police said the car was a VW Golf Mark 4 made between 1998 and 2005.
Insp Matt Butler, of Dorset Police's traffic unit, said: "We believe the VW Golf involved in this collision was light-coloured and either three door or five door.
"Someone out there must know who was responsible for Mr Colegate's death."
Mr Colegate was described as frail and walked with a distinctive stoop and used two walking sticks to aid his mobility.
He was walking to meet with friends at the Oakdale Conservative Club when he was struck.
Insp Butler added: "His family needs the help of the public to give them some closure to the devastating loss of a loving husband, father and grandfather."
The £10,000 reward is being offered by Dorset Police and the Crimestoppers charity.
Oakdale Conservative Club, where Mr Colegate was a regular, has also offered an additional reward of £1,000.