Gerald Gardner: Blue plaque for 'father of witchcraft'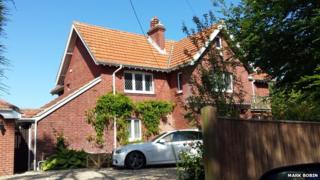 Gerald Gardner, regarded as the founder of modern paganism, has been honoured with a blue plaque at his former home.
The plaque, donated by the Centre for Pagan Studies, was unveiled at the house in Highcliffe, Dorset, exactly 130 years after Gardner's birth.
His first book, High Magic's Aid, was published in 1949 - two years before the repeal of the Witchcraft Act.
The only other witch to be honoured with a blue plaque is Doreen Valiente, the high priestess of Gardner's coven.
Ashley Mortimer, Trustee of the Doreen Valiente Foundation, said: "Gerald would have been 130 years old on Friday the thirteenth – a full moon, to boot."
Gardner, who was born in Blundellsands, Lancashire, spent his early adult life working as a British civil servant in the Far East.
It was during his years living in Highcliffe, during World War Two, that he became involved in witchcraft and dedicated the rest of his life to writing about and promoting it.
His best-known book, Witchcraft Today, about the history and theories of the witch cult, serves as a basis for the Wiccan religion.
His Book of Shadows, his personal handwritten book of rituals and other notes, is regarded as the most valuable document in the pagan world, according to John Belham-Payne, founder of the Centre for Pagan Studies.
Gardner passed the book on to Doreen Valiente who left it, along with other items, to Mr Belham-Payne, who hopes to open a museum to display the artefacts.
Christ analogy
He said: "Gerald took a lot of very ancient papers... and wrote the Book of Shadows and every witch now that is initiated copies parts of this book - it's a sacred text that is carried on.
"Gerald is one of those people who has been recognised nationally now because his name is included in the Oxford Dictionary of National Biography."
Gardner died of a heart attack in 1964 on board a merchant ship – The Scottish Prince – on his way home from Lebanon.
He was buried in Tunis, the ship's next port of call, and the only attendee at his funeral was the ship's captain.
His legacy is a worldwide following of Gardnerian Wicca.
Mr Belham-Payne said: "It's enormous. Like Christ, he wasn't a Christian, but his followers became Christians.
"With Gerald Gardner, he was like me, he was initiated into a traditional form of witchcraft but his followers became Gardnerians, and this Gardnerian movement in America, especially, is enormous."