Queen's Birthday Honours: Mobile homes campaigner recognised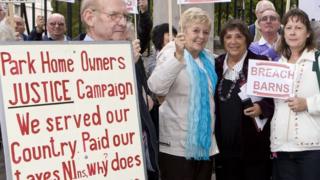 A dogged campaigner who helped win a change in the law for mobile home owners has been appointed an OBE in the Queen's Birthday Honours list.
Sonia McColl, from Wareham, Dorset, led the successful mission to change a rule which meant park owners could prevent residents from selling their homes.
The law had led to rogue landlords blocking sales in order to buy the homes themselves at a cheaper price.
Others honoured in Dorset include a former retained firefighter.
Christopher Rose is appointed an MBE for his services to the community in Gillingham.
Clinker boat building
Mrs McColl, who lives in a mobile home - or park home as they are also known, became involved when some of her neighbours tried to sell up but were blocked.
Although they owned the home, the land was owned by the park operator who had the power to approve or reject the new buyer.
The new law received Royal Assent on 26 March last year.
"It was a bittersweet day for me, the day my husband died," said Mrs McColl, who founded Park Home Owners Justice Campaign.
"He was absolutely wonderful - without his support I wouldn't be here today and wouldn't have got this recognition."
She is currently campaigning against a 10% commission charge mobile home owners have to pay landowners upon completion of a sale.
Elsewhere in Dorset, Steve Etches, also from Wareham, is appointed an MBE for services to palaeontology.
Naval architect Dr Holly Phillips, from Swanage, is made an MBE for services to maritime safety and the Swanage community.
Gail McGarva, from Lyme Regis, is also recognised with the same honour for services to heritage crafts and clinker boat building.
Vanetta Westell, from Poole, is awarded a British Empire Medal for charitable services, especially to the NSPCC.