Ferndown metal works factory destroyed by fire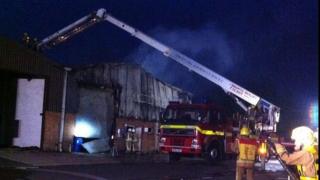 A metal works factory has been destroyed in a major blaze on an industrial estate in Dorset.
Fire crews spent five hours tackling the fire after being called to the unit on the Ferndown estate in Wimborne at 17:30 BST on Saturday.
They had to issue an "urgent" request for electricity firm staff to also attend because the building was underneath high-voltage lines.
Adjoining buildings were evacuated and nearby residents told to close windows.
Police initially closed Haviland Road on the estate, at the junction with Cobham Road, because of smoke blowing across the road.
One pump is still on site and a fire investigation is under way.
No one was injured.