First sailors sign up for Simpson memorial regatta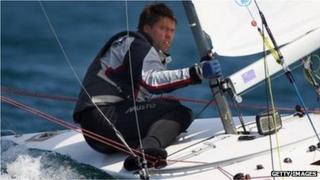 Sir Ben Ainslie is among one of the first individual sailors to sign up for races being staged in memory of Olympic sailing gold medallist Andrew Simpson.
Nicknamed Bart, the 36-year-old, from Sherborne in Dorset, died during training for the America's Cup in San Francisco Bay last year.
Bart's Bash is taking place on 21 September.
It is expected to attract thousands of sailors from all over the world including Iain Percy and Jimmy Spithill
The fundraising event was organised by the Andrew Simpson Sailing Foundation, which was set up by Sir Ben, Percy, Simpson's widow Leah and his sister Amanda, to support youth sailing.
'Unique opportunity'
Olympic champions Sir Ben and Percy will join the events at the Andrew Simpson Sailing Centre at Weymouth and Portland.
Sir Ben will also race at London's Queen Mary Sailing Club.
He described the event as "a unique opportunity to race the best sailors in the world".
America's Cup winner Jimmy Spithill will join the E Scow regatta at the Pewaukee Yacht Club in Wisconsin.
Simpson was one of 11 people on board the Artemis Racing AC72 catamaran when he became trapped underneath it on 9 May 2013.
About 600 sailing clubs have already registered for the event.