Poole Social Eyes club for blind people closure averted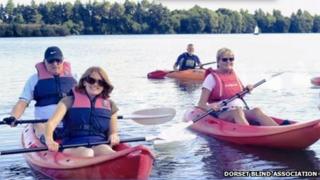 A club for blind and visually impaired people has been saved from closure after raising £3,000 in less than a week.
The Dorset Blind Association needed to raise a total of £12,000 to keep Social Eyes in Poole open and began a campaign to find the last £3,000 on Friday.
The club was due to close on 27 June once its leader's contract ended as it had no money to pay for a new one.
The campaign asked people "what would you miss?" if they lost their sight.
They were then encouraged to post their responses to Facebook and Twitter.
Real Madrid shirt
Charity fundraising manager Jaya Da Costa said the campaign attracted attention and support from "celebrities like Lesley Waters and Goldie, local businesses, other sight-loss charities and even a hotel in Dubai".
She said responses ranged from "seeing my kids growing up" to people posting funny animal videos.
Former AFC Bournemouth chairman Eddie Mitchell donated an Armani t-shirt he wore during an exhibition match between his club and Real Madrid last year.
It has been signed by the Spanish team and the fashion designer himself and is being auctioned on eBay to raise more funds for the charity's work.
Ms Da Costa said the club was "life-changing" as it offered members skills training and volunteer work opportunities.
According to the charity, almost two-thirds of people who are registered blind or partially sighted never or rarely go out, causing many to suffer loneliness and depression.
Social Eyes said it tackled these issues by improving chances to find work and offering social activities such as kayaking and cricket.
But a £40,000 funding shortfall meant the charity has lost three out of six support workers in the county, where more than 35,000 people are living with sight loss.