Andy Kirkby's Weymouth Gateway sculptures near completion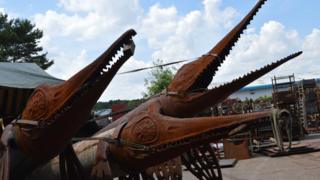 Something strange is happening in a little-known factory in Dorset.
Marben Engineering in Ferndown makes parts for power stations all over the world but, venture beyond the lathes and cutters and out into the yard beyond, and you will find a remarkable giant sculpture taking shape.
Three ichthyosaurs - prehistoric marine reptiles - fashioned from World War One torpedoes, pull at their reins, which are attached to a sumptuous gold throne on their backs.
It might sound like something from a fantasy novel but for sculptor Andy Kirkby, the fantasy has become a reality.
With help from welders and other engineers at the workshop, Mr Kirkby has been building three pieces of public art for Weymouth in the company's backyard.
He was commissioned to build three pieces for the Weymouth Gateway in a project being funded by New Look, which has its headquarters on the estate, and Sainsbury's.
Mr Kirkby is an unlikely addition to the Marben team, whose average day consists of making precision components, but Howard Wood, a partner in the family-run business, said he had become a part of the family.
He said: "Andy has a very clear idea of what he wants and our guys help him do it. He made use of one of our welders for a couple of hours.
"When he said he was going to be using a World War One torpedo, I was worried. It's been a challenge because it's been much bigger than we would normally do."
The project began 18 months ago with a public consultation so members of the public could contribute ideas.
"We wanted to get hidden stories that aren't in the guide books," said Mr Kirkby.
"The emphasis was on involving the locals, to make something that was site specific."
Recurring themes included the Jurassic Coast, the world wars - in particular Whiteheads torpedo factory in Wyke Regis - and King George III, whose statue stands on Weymouth seafront, the resort he founded in the 18th Century.
As he painstakingly applied the 24-carat gold leaf to the throne, Mr Kirkby explained: "I don't make high art, it's got to be accessible.
"All these things are obviously symbols.
"If you do public work, it's got to be informative and the kids have got to enjoy it as well."
One phrase that came up during the consultation was "swords to ploughshares", referring to the reuse of military weapons for peaceful purposes, like the Royal Navy base at Portland - now the National Sailing Academy, or the torpedo - now an ichthyosaur.
Ichthyosaurs were dolphin-like reptiles that lived millions of years ago. In December, storms unconvered a 1.5m (5ft) skeleton at the base of Black Ven on the Jurassic Coast.
Another wartime anecdote about dolphins chasing torpedoes off the coast at Weymouth during testing also informed the design.
Mr Kirkby, who was also responsible for the Boscombe Sculpture Trail, is an advocate of what he calls accessible public art and says there has been a tendency to install meaningless sculpture in inappropriate locations.
"There's been a lot of irrelevant plonking," he said.
"I'm not a plonker, that's why I do it."
The sculptures, which also include a bus stop and a giant gold frame, will be installed at the Weymouth Gateway site at Mercery Road in the coming weeks and will be officially unveiled on 16 July.