Bournemouth car club aims to ease congestion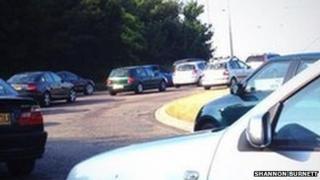 A new car sharing service has been launched in Bournemouth in an attempt to reduce congestion.
Members of the Co-wheels car club can hire a car from 30 minutes to 10 days, with prices starting at £3.75 an hour.
Co-ordinator Alex Elliott said he hoped the scheme would "expand people's options".
"It is very easy to say 'don't use a car' but that is not always practical." he said.
Members can hire a car from locations including Bournemouth Town Hall, Queen's Park Pavilion and Argyll Road - with the vehicle having to be returned to the same place.
'Reduce car ownership'
Mr Elliott said: "Bournemouth has quite a lot of congestion and the areas we are focusing on first are ones with parking difficulties."
Other cars will soon be available in Lansdowne, Westbourne, Winton and Charminster.
Councillor Michael Filer, Bournemouth Borough Council's cabinet member for transport, said: "With more people using these types of initiatives, it will help reduce car ownership and usage, and in the long term will reduce congestion and improve the local environment."
Members can book a car online or over the phone, before using a smartcard to unlock the car.