Fears over Weymouth's Condor channel ferry port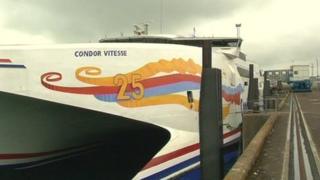 A Dorset council which spent £4.5m repairing its cross-channel ferry port says it has no money for improvements to accommodate a bigger ferry.
Condor Ferries, which operates from Weymouth, wants to buy a bigger vessel for its Channel Island service but the berth would require £10m of work.
The company said it had not ruled out contributing to the cost of the upgrade.
The larger ferry could be accommodated by existing facilities at Poole.
An agreement is in place for Condor to operate from Weymouth until summer 2015, Weymouth & Portland Borough Council said.
Repair work on Weymouth's harbour wall was completed last year. Condor sailed from Poole for 17 months while the emergency repair work was carried out, creating a knock-on effect on Weymouth's business community.
'Natural gateway'
Councillor Mike Byatt said: "Condor has always stated its preference is to sail from Weymouth as the distance and time it takes to cross the channel is less.
"We continue to look at all the options available to us, including if Condor decides it no longer wishes to operate from the borough."
James Fulford, chief executive of Condor Ferries, said: "Despite having spent over £10m in the last two years maintaining our fleet of high speed ferries, they are becoming increasingly expensive and difficult to maintain.
"Weymouth is the historic and natural gateway to the Channel Islands, however we can only operate from ports where it is safe to do so and where the berthing facilities are fit for purpose.
"We've been very clear that we will support the council as the issues regarding funding, regulation and legislative become clearer, and we have not ruled out a contribution to the cost of the works."
In May, council representatives and South Dorset MP Richard Drax failed to secure government funding to upgrade the town's ferry port.