Boscombe community safety patrols launched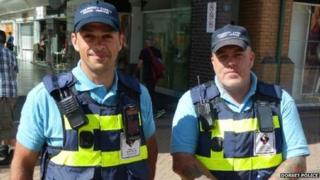 Community safety patrols have begun in a Dorset town in a bid to cut crime and antisocial behaviour.
The community safety patrol officers (CSPOs) began shadowing Dorset Police officers on 19 May and have since completed a training course.
Dorset Police and Crime Commissioner Martyn Underhill and Dorset Chief Constable Debbie Simpson officially launched the patrols.
Bournemouth Borough Council has funded £60,000 for the scheme's first year.
The money, from the government's Recession Fund, covered recruitment, training, uniforms and salaries.
It has also contributed £14,000 for radio equipment.
The patrols cover the central shopping area of Boscombe, bound by Hawkwood Road and Centenary Way, including the Royal Arcade, Sovereign Centre and bus station.
The CSPOs have the same powers as police community support officers (PCSOs) such as the power to deal with street begging, anti-social behaviour and seizing alcohol from people drinking in designated no drinking zones.
They are also able to stop people cycling in the precinct and have a communications link to the police, Sovereign Centre security teams, town centre cameras and retailers signed up to the Boscombe Business Watch.
Boscombe Partnership and Regeneration Officer Sgt Chris Amey said: "They are not here to replace police officers or PCSOs, but instead work closely with the East Bournemouth Safer Neighbourhood Team, local retailers and residents to improve community safety and provide reassurance.
"Unlike police officers or PCSOs they can maintain a permanent focus on a specific area without the possibility of being re-deployed to other incidents."
In April, a police phone box was installed in the town centre.
The box's design was based on the distinctive 1929 version created for the Metropolitan Police and made world-famous by the Doctor Who television series.