Nuclear submarine HMS Torbay visits Portland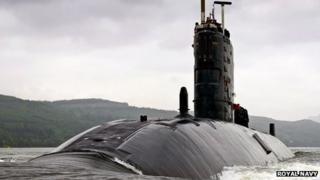 The navy's nuclear submarine HMS Torbay has sailed into Portland.
The Devon-based submarine, one of the Royal Navy's five nuclear-powered attack submarines, is making a six-day official visit to the port.
Dozens of sea cadets, school children, members of Dorset Police and potential recruits are expected to tour the vessel and meet its crew.
The 85m (280ft) long Trafalgar-class vessel known as the "Blue One" is docked at Portland Port.
It carries 130 crew and is fitted with both spearfish torpedoes and Tomahawk land attack cruise missiles.
Its sonar system is so sensitive it can allow crews to identify vessels more than 50 miles (80km) away.
Weymouth and Portland Borough Council has put an emergency response plan in place for the visit, required when any nuclear submarine docks in a UK port.
Councillor Mike Goodman said: "The submarine is equipped with extensive safety measures and its reactor will be shut down when it is in harbour.
"It will be business as usual during the visit."
A booklet advising people what to do during a radiation emergency has been given to those residents living within 1.5 kilometres (0.9 miles) of Portland Port.
Potassium iodate tablets will also be held by the Maritime and Coastguard Agency and Royal Navy ready for issue to residents in the event of a nuclear emergency.