Dorchester's Charles Street development plans on show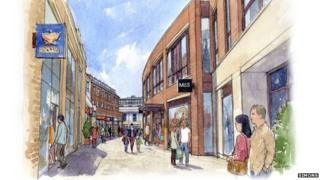 The latest plans for developing Dorchester town centre's retail area are being unveiled.
The proposals for Charles Street are being submitted to West Dorset District Council but developer Simons is putting them on show to gather comments from residents.
West Dorset District Council has agreed funding of up to £4m towards the scheme.
The development includes Marks & Spencer and Waitrose stores.
New council buildings, a library and an adult learning centre have already been built in Charles Street in the first phase of its regeneration.
A Simons spokesman said: "We are really looking forward to engaging with the public and listening to all views regarding the latest plans."
The plans will be on show at the former Bryter Latte shop in South Terrace from 10:00 to 19:00 BST on 18 July and 10:00 to 15:30 BST on 19 July.