Jurassic Coast's heritage 'not threatened' by Navitus Bay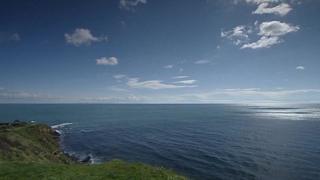 The Jurassic Coast is not in "imminent danger" of losing its world heritage status despite plans for a wind farm, a government minister has said.
Bournemouth West MP Conor Burns, who held a Parliamentary debate about the Navitus Bay project, warned that the area may lose its Unesco designation.
But Ed Vaizey said the organisation had made no official view on the matter.
Navitus Bay said it understood the concerns raised and was assessing the possible impact on the site's status.
Speaking in the House of Commons, Mr Burns said: "A proposal for a wind farm of 194 turbines, each of up to 200m in height, is currently before the Planning Inspectorate for evaluation.
"It will be sighted within full view of the Jurassic Coast.
"The tourism economy throughout Dorset would suffer drastically. Over 30 million trips were made to Dorset in the last year, five million or so that included the Jurassic Coast, and evidence suggests that numbers have increased since the Jurassic Coast's designation as a World Heritage Site."
He added that it was the most "significant issue" in the area for a "generation".
In reply, Mr Vaizey, who is minister for culture, communications and creative industries in the Department for Culture, Media and Sport (DCMS), said the coast was not considered by Unesco to be "under threat".
He added: "It is important to stress that it's a World Heritage Site not on the basis of its natural setting, but because of its unique geological interest.
"The need to protect the natural beauty of these areas, and the affect of the wind farm, will be considered as part of the planning process, as indeed will the cultural heritage."
Mike Unsworth, project director at Navitus Bay, said: "Contrary to some reports, the issue has not in fact been examined by the World Heritage Committee and there is no official view by the World Heritage Committee nor Unesco as an organisation.
"The International Union for Conservation of Nature - an advisor to Unesco - did recently write to Unesco, raising concerns.
"However, its comments are not aligned with the conclusions of either the independent heritage impact assessment provided by Navitus Bay in its environmental statement or the conclusions of the DCMS."
Plans for the Navitus Bay development have received almost 2,700 interested representations.
The Planning Inspectorate said it was the highest number for any proposed offshore wind farm it had handled.