Police release images of Wallisdown Barclays bank robbery suspect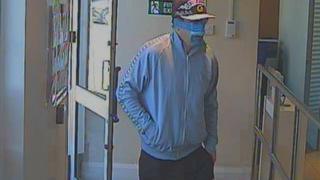 Detectives investigating a robbery at a bank in Dorset have released two images of the suspect.
The raid happened at about 10:00 BST on Thursday at Barclays Bank, in Bryant Road, Wallisdown.
Police said a man entered the premises, near Poole, and demanded money before he was handed cash and left.
He was seen getting into a metallic light green-coloured Peugeot estate car parked on the service road behind the bank.
The car was occupied by another person and it drove off toward Mossley Road.
Police said a security pack from the bank containing red dye was believed to have exploded in the vehicle.
This would have covered those in the car and the inside of the vehicle.
Det Sgt Dave Colomb, of Bournemouth and Poole CID, said: "Even though his faced is disguised it is hoped that someone may recognise him by his clothing and stature.
"If anyone has seen this man with red dye on his clothing they are urged to contact the police urgently."
The suspect is described as white, approximately 5ft 10 inches and wearing blue tape or a bandana to disguise his face.
He was wearing a light blue Kappa tracksuit top, black Nike tracksuit bottoms with a white Nike tick on the left and white Nike Air trainers.
He was also wearing a brown baseball cap.