Jurassica dinosaur museum plans unveiled at Portland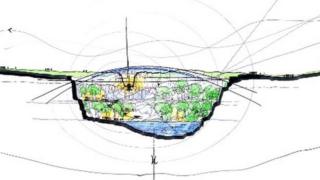 A meeting has been held to discuss a £60m project to convert a disused quarry into a dinosaur museum.
The scheme, called Jurassica, would be built in Portland, on Dorset's Jurassic Coast, and would open in 2019 or 2020.
Last week the project was awarded £300,000 from the Local Enterprise Partnership for a feasibility study.
The plans have been made public for the first time at a presentation and consultation meeting at the St George's Centre in Portland.
The plans involve putting a glass and steel roof over the 40m-deep (132ft) limestone quarry and installing an aquarium and animatronics.
The project has Sir David Attenborough as its patron and the Eden Project's Sir Tim Smit as its trustee.
'Treasure trove'
Preliminary designs have been drawn up by Renzo Piano, the architect of the Shard in London.
Science journalist Mike Hanlon, who came up with the idea, said: "Visitors will be led into a space of absolute wonder and marvel. It will be a subterranean treasure trove.
"There is an immense treasure trove of material held by people in Dorset who have been collecting along the cliffs of Charmouth, Lyme Regis, Purbecks and Portland for decades and it would be great to have somewhere where this material could go on display."
Mr Hanlon said he hoped Jurassica would attract at least 800,000 visitors and create 200 permanent jobs.
He said the next stage would be to apply for lottery funding.
The Jurassic coastline, which covers a 95-mile stretch of cliffs between Dorset and East Devon, is a UNESCO World Heritage Site.