Queen jigsaw maker Dave Evans calls for fastest record challengers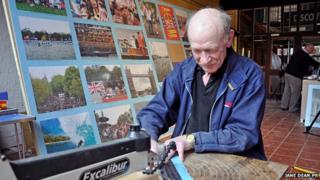 A jigsaw maker who made a 40,000-piece puzzle for the Queen has called for challengers to face him in a "fastest jigsaw cutter in the world" contest.
Dave Evans, from Weymouth, Dorset, wants to set a world record for cutting a 1,000-piece puzzle.
He will hold the event in September and will take on any experienced cutters.
Mr Evans made headlines last year when his hand-cut 20ft by 8ft (6m by 2.5m) Diamond Jubilee puzzle collapsed after the final piece was put in.
It took him and four helpers more than 16 days to rebuild it before it was transported to the Sandringham estate.
He believes his latest challenge, a 3ft by 2ft (0.9m by 0.6cm) puzzle, could take between three and five hours to cut. No record currently exists for the fastest jigsaw cutter.
He hopes the attempt, which is set to take place at Poole's Dolphin Centre, will be streamed live on the internet.
He said: "To make it more interesting I'm making a plea to see if anyone in the world would like to challenge me."
The jigsaw he will cut for the new attempt is likely to reflect the 100th anniversary of the start of World War One.