Group's 128-mile walk to Tolpuddle Martyrs Festival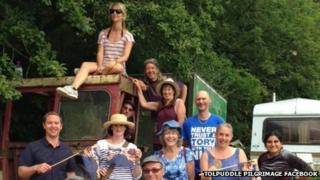 A group of activists has completed a 128-mile (206km) walk in memory of the founders of the trade union movement.
The Tolpuddle Martyrs Festival, in Dorset, celebrates six farm workers who started the first trade union in 1834.
A group of activists, co-operative farmers and artists walked from Plymouth Harbour to the festival.
Jonny Gordon-Farleigh, who organised the walk, said he wanted to pay tribute to the martyrs and promote community action groups.
He said: "The walk was partly inspired by the history of the Tolpuddle Martyrs but it's also about spreading awareness of the emerging co-operative and community-led food systems in the South West.
"We want to get the unions, the environmentalists and the community action groups working together."
Thousands of people are expected to turn out to the festival, which runs from Friday to Monday.
The group started their walk on 10 July and completed it on Saturday afternoon.
Mr Gordon-Farleigh said: "The walk has gone really, really well. If we do it again next year, though, we might want to take better care of our feet and get to bed earlier."
The Tolpuddle Martyrs Festival remembers six agricultural labourers who formed a "friendly society" - a forerunner to a trade union - and swore an illegal oath to protect their falling wages.
They were sentenced to seven years' transportation to an Australian penal colony but were given a complete pardon after nationwide protests and returned to their homeland.