Human skull left outside Wareham church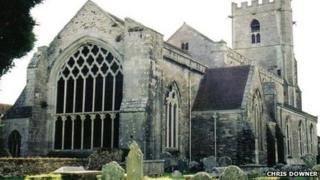 A human skull has been found outside the door of a church in Dorset.
The warden of Lady St Mary's Church on Church Green in Wareham, found the skull at about noon on July 11.
It had been carefully wrapped in tissue paper and placed in a bag. Police believe it may have been at the church for more than 24 hours before being found.
Officers described the skull as "very old" said it was being carbon dated to determine its age.
'Dug up'
Det Con Michelle Lawrence, of Dorset Police, said: "We are not treating this incident as suspicious at this time.
"Some houses near to church were built on parts of the old cemetery nearly 100 years ago and it is feasible that the skull may have been dug up in someone's garden.
"The person who found it may have wanted to do the right thing and left it at the church.
"We would like to ascertain exactly what has happened."
Anyone with information about the skull is asked to contact Dorset Police.