Family of six swans killed in Dorset weir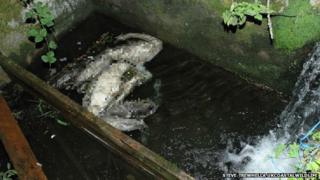 A family of six swans have been killed after becoming trapped in a boarded up weir near Dorchester.
The two adults and their four cygnets were found in Sydling Water after a member of the public alerted Dorset Wildlife Trust.
Wildlife rescuer Steve Trewhella, who helped retrieve the bodies, said the weir "would trap and kill any animal".
The Environment Agency said it would investigate the structure to see if it posed a danger to wildlife.
Mr Trewhella said the adults were ringed and "have been known as a breeding pair since 2009, producing five or six cygnets a year".
It is believed the swans had dropped through gaps in the weir and landed in the small pool of water with concrete on three sides and wooden boards on the front.
Dorset County Council said it was "investigating to find out what happened and what can be done to ensure this doesn't happen again".
It is as yet unclear which body is responsible for the weir.