Husband's tribute to Janice Short, killed walking dog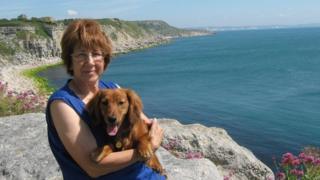 The husband of a woman who was killed in a collision with a motorcyclist has paid tribute to "her wonderful spirit, love and enthusiasm".
Janice Short, 63, was struck by the biker, a 23-year-old local man, near Chafey's roundabout in Weymouth.
The crash happened as she crossed from the pathway at Goldcroft Avenue on Saturday to access the trails around Radipole Lake with her dog Toby.
Police believe Mrs Short may have stepped out in front of the biker.
Mrs Short had moved to Weymouth from Leighton Buzzard a year ago.
She and her husband Andrew had wanted to be closer to their family after she retired as a teaching assistant last summer.
They had been married 43 years and had three children. Mr Short said: "Jan was the centre of our world and in a split second, tragically taken from us all.
"The love that her young grandchildren will now miss out on is a void we can only hope to fill by finding the strength to pull together as a family.
"Her wonderful spirit, love and enthusiasm will be missed every day by everyone who was fortunate enough to know her."
PC Andy Loveless, of Dorset Police, said: "Early indications are that the motorcyclist was travelling north, from the Swannery Bridge location toward Chafey's roundabout, and the female pedestrian walked out to cross the road into the path of the motorcycle."
He urged any witnesses who had not spoken to police to come forward.