Gillingham's WW1 Red Cross Hospital plaques unveiled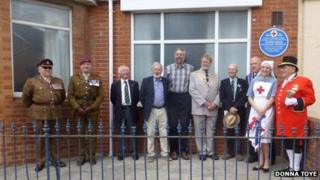 A town in Dorset has remembered its contribution to World War One with the unveiling of three blue plaques.
During the war, residents of Gillingham who did not leave to fight established two Red Cross hospitals for injured troops coming back from the front line.
The plaques mark the hospitals and a third site, which was a temporary ward.
A service will also be held on Monday at the thatched church of St George's, Langham, which was built as a memorial to people from the hamlet who died.
The project to mark the buildings was instigated by the Gillingham Local History Society.
The first plaque was unveiled at the former Plank House Red Cross Hospital, now two houses, on the corner of Wyke Street and Le Neubourg Way.
The second has been placed on the former Station Road Red Cross Hospital, near the junction of Buckingham Road.
The hospital occupied three buildings, now an opticians, a betting shop and a Masonic Lodge, where the plaque has been erected.
A third plaque was unveiled at The Royal British Legion headquarters in School Lane - the main part of the building includes a former temporary hospital ward, moved from the Station Road hospital.