Bournemouth beach huts storm damage costs £140k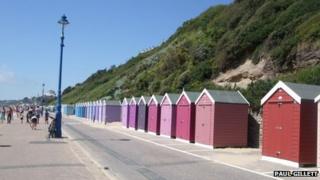 The clear-up cost from storm damage to Bournemouth's beach huts was £140,000, the council has revealed.
Nearly 400 council and privately-owned beach huts were damaged in turbulent weather in February.
About 30 were upturned, ripped from their standings and completely destroyed.
The borough council, said some of the huts have been anchored down with metal plates to provide some protection against future storms.
Andrew Emery of the council said: "But at the end of the day against that sort of force of nature, there's not a lot you can do."
Bournemouth has nearly 2,000 beach huts along its five and a half miles of promenade.