Undiscovered woman Anne Leitrim 'was mummified', inquest hears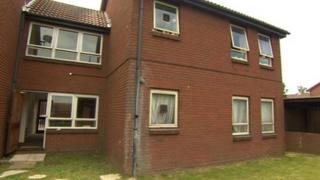 A woman who lay undiscovered in her house for seven years was found in a mummified state, an inquest has heard.
A post-mortem examination failed to find a cause of death for Anne Leitrim, who was found underneath her bed in her flat in Bournemouth on 24 June.
She was discovered when a bailiff, who had been instructed to repossess her home, entered through a bedroom window.
The inquest at Bournemouth Coroner's Court heard police found a calendar in her home which dated from 2007.
It is believed Ms Leitrim would have been 58 at the time of her death, the inquest heard.
No mention of her family was made during the brief hearing.
Neighbours in Tolpuddle Gardens, who thought she had left the flat, believed she had been dead for six years.
But the inquest heard the authorities were confident she had died in 2007.
The body of the nurse, who had previously worked for a hospital in London, was not identified until 5 August.
The inquest was adjourned until a provisional date of 23 October.