Chesil Beach hand grenade detonated by bomb disposal team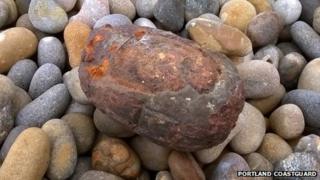 An unexploded hand grenade has been found on Chesil Beach in Dorset.
Portland Coastguard said a member of the public found the "rusty old grenade" on the seaward side of the beach by Wyke Regis.
Coastguards contacted the Army about the grenade, which still had the pin attached.
The area was cordoned off and a bomb disposal team carried out a controlled detonation, which was done by 20:00 BST.