HMP Portland still has drug and legal high problems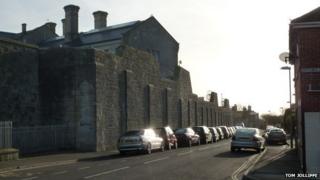 An inspection has revealed a Dorset prison still has problems with drugs, legal highs and the treatment of people with mental health difficulties.
The Independent Monitoring Board's annual report into HMP Portland found various issues had not been addressed.
Young offenders and adults are held at the prison, which has led to a problem with dangerous substances being traded.
A Prison Service spokesperson said it was working with the health service and clamping down on drugs.
The board did praise staff for resilience in "a period of rapid and significant changes".
There are 576 prisoners at the site and 54% of these are aged between 18 and 24.
'Cell smashing'
The resettlement prison helps offenders rehabilitate near their homes before release.
But the board said it was "illogical" and "counter-productive" that HMP Portland resettled prisoners from Avon, Somerset, Wiltshire and Gloucestershire but not Dorset.
Mixing adults and young offenders since 2011 has led to an "influx" of drugs and dangerous legal substances, it added.
The board questioned the "deplorable number of prisoners being sent to Portland with serious mental health issues" and whether they should be kept in the closed custody unit.
But improvements had been made as so-called "cell smashing" had declined, following the introduction of financial penalties.
A Prison Service spokesperson said: "We are working closely with NHS England to identify and treat those with mental health needs - including assessments upon arrival in prison, and referrals to specialist services.
"We have also made it clear that the use of illicit substances will not be tolerated, and use a range of measures to find them, including searches and specially trained dogs. Anyone caught may be referred to the police for prosecution."
The report was compiled through observations by board members over the course of a year up to March 2014.