Wareham landfill fire could take days to put out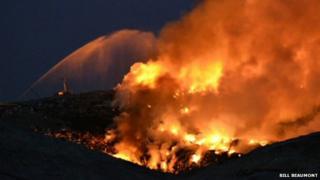 More than 30 firefighters are tackling a blaze at a landfill site in Dorset, which could take days to extinguish.
Fire broke out at the site off Bere Road, near Wareham, on Sunday afternoon with about 10,000 sq m of rubbish affected to a depth of 10m.
Crews were alerted to dark black palls of smoke shortly before 17:00 BST.
Area manager Craig Baker said the fire could take days to put out and weather conditions meant the smoke could linger in the area.
Residents as far away as the New Forest reported problems with the smoke from the fire.
The smoke is not harmful but people living nearby have been advised to keep their windows shut.
A high volume pump from Hampshire Fire and Rescue Service has been sent to assist with extinguishing the flames.