Line lease boosts Swanage - Wareham rail reconnection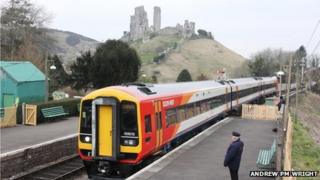 Efforts to restore a Dorset passenger train service for the first time in 40 years have taken a step forward.
Dorset County Council has leased three miles (4.8km) of track near Wareham to the Swanage Railway heritage line to connect it to the mainline network.
Work to restore sleepers, repair bridges, fences and embankments is due to take place over the next year.
Swanage Railway chairman Gavin Johns called the lease an "important milestone".
The council had acquired the stretch of trackbed between Worgret Junction to Motala from Network Rail.
The Dorset line from Swanage to Wareham was closed by British Rail and ripped up in seven weeks in 1972.
A 5.5-mile (8.8km) stretch from Swanage to Norden was rebuilt as a steam train heritage line and is run by volunteers as a tourist attraction.
It has had a long-term ambition to reconnect the line from Swanage and Corfe Castle at Wareham.
Mr Johns said: "[The 99-year lease] provides a sound long-term basis on which to plan the Swanage Railway's growth and development."