Dorset infant pupils still waiting for hot meals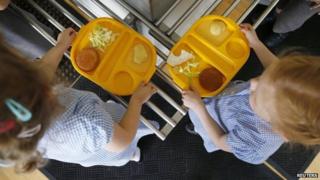 Schoolchildren entitled to a free hot meal each day may have to make do with packed lunches in the short term, a council has admitted.
Infant pupils in the east of Dorset were supposed to receive a hot meal from a private firm under new legislation from the start of term.
But many meals have been late or incomplete after one of the company's kitchens burnt down in Ferndown.
Dorset County Council said the situation was "improving every day".
It estimated 5% of infant schools had been affected, with some ordering sandwiches and pizza when deliveries failed to show up.
'Tough questions'
An urgent meeting was held earlier between Dorset, Bournemouth and Poole councils, and catering company Chartwells.
Toni Coombs, cabinet member for education, said: "We asked some tough questions and there was a recognition that performance had not met our requirements.
"Right now, we are concentrating on ensuring that children have their meals each day - even if they have to be packed lunches in the short term."
Chartwells says it expects to have a new kitchen ready in Poole by October half term.
In the meantime it has hired extra staff and vans, and is having to source some food from outside the county.
The council said the schools affected would be compensated by the firm.
Robin Mills, managing director of Chartwells, said: "We completely understand the concern and inconvenience that this has caused and we have apologised to those affected."
He added that the firm was now delivering a "good service" to 90% of the schools.
All pupils at 16,000 infant schools across England are now entitled to a free hot meal under the Universal Infant Free School Meals policy.