Flotilla in Portland coastguard base farewell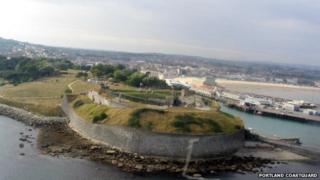 A flotilla of vessels will sail into Weymouth later as a farewell to Portland coastguard station.
The station, which co-ordinates search and rescue services, is being replaced by the National Maritime Operations Centre in Hampshire.
The closure of the centre, which has been based on the quayside for 35 years, has been strongly criticised.
The flotilla is expected to gather at the entrance to Weymouth Harbour at about 16:30 BST.
The vessels are due to sail up the harbour to the coastguard office on the quayside saluted by cannon fire from Nothe Fort.
Organiser of the flotilla Roger Macpherson said: "It's purely a thank you for the 35 years of service."
The new Maritime Operations Centre in Segensworth, will be run alongside nine other 24-hour bases around the UK.
The government claims the move will "modernise" the service and cut costs.
The coastguard helicopter based at Portland is due to be replaced by a regional service in 2017.