Revised Poole Twin Sails Bridge road plan criticised by campaigners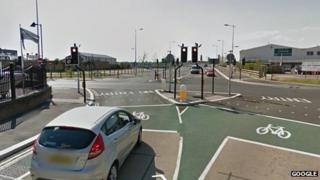 Plans for a new road layout around Poole's Twin Sails Bridge have been criticised by campaigners.
The current system was described as an "unsafe environment" for cyclists and pedestrians in a council report shortly after it opened in 2011.
Revised plans with joint foot and cycle paths have been described by an environmental group as "a fudge".
The council said it would consider residents' and business interests as well as those of cyclists.
The Marston Road and Bay Hogg Lane multi-lane gyratory system which feeds the Twin Sails Bridge has been criticised since a serious accident involving a pedestrian shortly after it opened.
'Worse, not better'
Andy Hadley of environmental group Transition Town Poole said the idea of a shared path for pedestrians and cyclists should be "an option of last resort".
"Pedestrians don't like it and cyclists don't like it as you are forever weaving round people. It'll make it worse, not better," he said.
Poole Borough Council's head of planning Steven Thorne said: "Key employers clearly will not have the same requirements of the road scheme as residents as residents and tourists. It's going to be a compromise."
The council's economy, overview and scrutiny committee is due to discuss the results of the ongoing consultation at the beginning of October.