Poole crashed car impaled on traffic bollard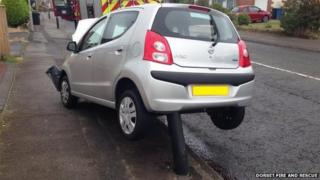 A car that was tipped on its side after a crash ended up impaled on a bollard after a team of good Samaritans tried to turn it back over.
The accident happened on Yarmouth Road, in Poole, Dorset, at about 11:45 BST.
Dorset Police said a recovery vehicle had to remove the damaged Nissan Pixo, but that no injuries were reported.
Eyewitness Thom Stroud tweeted: "Could hear the women inside screaming to get out. That's when we all pushed with our might to get the car back on 4 wheels."
Mr Stroud said two women were inside the car, which became stuck on the bollard after several drivers got out of their cars to help right the vehicle.
"Sooo shaky right now but amazed at what us humans can do in emergencies," he added.
Both Dorset Fire and Rescue Service and South Western Ambulance Service attended the scene.
Police said the driver was from the Poole area.