Dorset Police outsource crime scene guarding to Securitas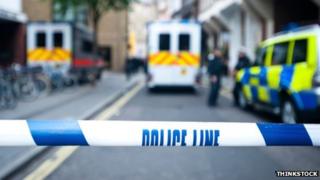 The guarding of scenes of major crimes in Dorset has been permanently outsourced to a private security firm.
Dorset Police said the decision followed a successful four-month trial with Securitas Ltd.
The force said the firm was called out 15 times during the trail from October last year, releasing a total of 700 police hours to front line services.
Dorset's Police Federation previously criticised the move as "privatisation" but said its opinion had since changed.
The force is trying to achieve budget savings of £10m by March 2015.
It said 3,000 police hours each year would be saved by Securitas guarding crime scenes.
'Huge resources'
Det Ch Supt Mark Cooper said the exact value of the contract for private security guards was "commercially sensitive" but was "a lot cheaper" than using police officers.
"Using a private company to fulfil a very small area of business more cost effectively allows the force to reinvest policing time into other front line matters," he said.
Tony Tester, chair of the Dorset Police Federation said his members would welcome the move, despite the federation initially criticising it when it was first mooted.
He said: "It frees up the police officers on the ground to do roles within the investigation like house-to-house inquiries or vital patrols, rather than being stuck on guard on a crime scene. It's an important job, but there is no need for police powers.
"Large scale crime scenes take a huge amount of resources to guard, in the past we had the capacity to do that, but currently we don't."