More than 70 Dorset conservation sites lost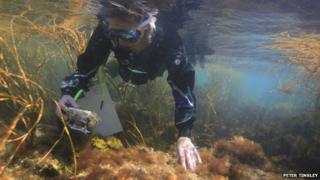 More than 70 conservation areas in Dorset have been lost since 2005, a new wildlife report has said.
Dorset Wildlife Trust said 76 Sites of Nature Conservation Interest had been destroyed or declined in quality and no longer qualified for the status.
The trust said a lack of environmental management had contributed to the loss of the conservation sites.
The report also looked at recycling rates, development pressure and protected conservation areas.
'Irreplaceable heritage assets'
The report, Natural Value: The State of Dorset's Environment, looked at what is being done to protect Dorset's environment.
It said incremental loss of natural habitat remained "one of the unintended consequences of development of the area".
Chair of Dorset's Local Nature Partnership (LNP) Dr Simon Cripps said: "Dorset has an unparalleled natural heritage that is worth billions of pounds each year in income, but it is very fragile and has been badly damaged in the past.
"We must better learn how to look after this goose that lays the gold eggs so that we can achieve valuable growth and development, but not at the cost of the very environment which sustains it."
The report also showed otters have re-colonised almost all of Dorset's rivers and 2.8% of the county's 11,000 irreplaceable heritage assets were at risk.
It said tourism was worth around £1.44bn to Dorset each year and accounted for 12% of jobs, with both "almost entirely dependent on our natural environment".