Hairy pigs introduced to help endangered bird species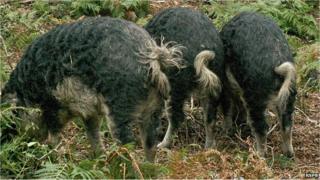 Hairy pigs have been introduced to a Dorset nature reserve to improve the habitat for endangered birds species such as the Dartford warbler.
The herd of six Mangalitza pigs have moved in to a seven hectare site at Arne nature reserve, near Wareham, on the edge of Poole Harbour.
The animals, which have an unusual fleece, will also be joined by six Berkshire pigs for six months.
They will clear bracken and pine needles to allow wildlife to flourish.
The project, by the RSPB, aims to create better habitats for the Dartford warbler, stonechat and nightjar.
It is also hoped the introduction of the pigs will aid the recovery of sand lizard and smooth snakes numbers.
Mark Singleton, RSPB Dorset reserves operations manager, said: "This is the first time that the RSPB has used pigs to graze on one of its reserves.
"It is an experimental project that we hope will produce fantastic results for nature at our Arne reserve.
"Usually we would hire diggers and other machines to remove all of the pine needles from the site but that would have negative impact on the environment.
"We are hoping these pigs are able to do the same job in a much more environmentally friendly way, and are much more fun."
---
The hairy porkers
The Mangalitza breed are mostly found in Austria, Germany, Hungary, Romania and Switzerland
A primitive, hardy animal, they are descended from wild boar populations but are friendly and lively
Initially bred for lard production they have now carved a niche in forestry projects
Imported to the UK in 2006
Source: British Pig Association
---
The project is one of many that the RSPB is carrying out to reverse the decline in the UK's species.
At RSPB Minsmere, near Holbrook, Suffolk, Konik ponies help the management of habitats by controlling scrub encroachment.
Exmoor ponies are also helping maintain RSPB Broadwater Warren, near Tunbridge Wells, Kent, while Manx sheep have grazed at many reserves around the UK.