West Lulworth new village school design criticised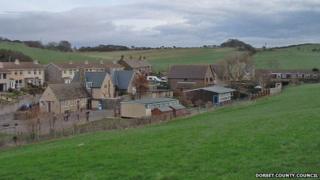 Plans for a new school in a Dorset village have been branded a "design debacle" that "would not be out of place on an industrial estate".
Dorset County Council plans to replace the primary school in West Lulworth with a new building nearby.
Resident Nicholas Cole said the scheme resembled a DIY store and did not comply with rules for buildings to be faced with Purbeck stone and render.
The council said the design allowed the school to be built "to a fixed budget".
Since the abolition of Purbeck's three-tier education system, Lulworth and Winfrith First School has been split between two sites, with Years 4 to 6 based in West Lulworth and the reception to Year 3 pupils based at Winfrith.
The new building, at the end of School Lane, will accommodate additional year groups from abolished middle schools.
It will have three classrooms, a hall, play areas and parking. Work is expected to begin later this year and is due to be completed by autumn 2015.
Mr Cole, who lives opposite the school, said a replacement was "much needed" but claimed the design and new green-field location were inappropriate.
Steve White, who lives nearby, fears the old school site will be turned into housing. He said: "They should knock down the existing building and put it there."
A council spokeswoman said: "Dorset County Council, as the education authority, needs to ensure that the school achieves the aims of a modern curriculum, with a building that provides sufficient and suitable accommodation for the additional year groups who now attend the Lulworth site.
"The design of the new building conforms to a standardised modern plan that ensures delivery of the project to a fixed budget.
"The proposed location has been agreed upon from an operational and environmental perspective."